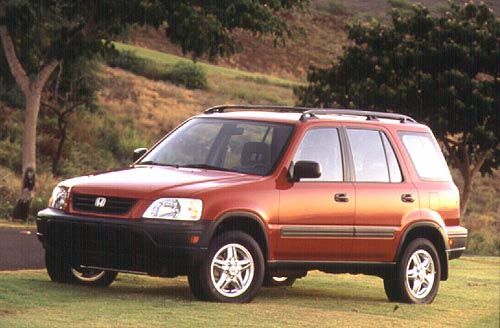 CR-V is powered by a 16-valve 2.0-liter four cylinder engine that is rated at 126 horsepower. When I first started driving the CR-V I thought it was underpowered, but then I remembered I had just left the Porsche Boxster. After a few days I became used to the Honda's power and felt it was adequate for the vehicle. The engine is connected to the wheels through a four-speed automatic transmission.
At no time do you get the feeling you're driving a truck in the CR-V. Even the smaller American SUVs are still truck-based and are bigger than the CR-V.
The CR-V comes with all the accessories you would want, including a good HVAC system and a sound system with no cassette or CD. Our tester also had the ABS option. In the warm humid weather in which we drove the CR-V, the air conditioner was sometimes taxed to cool down the vehicle.
The CR-V also has good amenities, like an extra power outlet and a lot of cupholders. One of the best goodies was a picnic table that doubles as the cover over the spare tire in the back. It's one of the most practical dual-use features in any automobile.